Types of Women that Attract Rich Men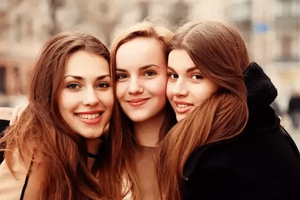 It's interesting to take a few moments and contemplate what types of women attract rich men. Probably the first few things which come to mind are that the women in question must be young and attractive, tall and long legged - after all, isn't that the typical type of women most rich men wish to be associated with?
Well, I guess the answer is both yes and no - and mainly because each one of us is unique in our own way and quite what attracts us to each other is not all about physical appearance. To state the obvious, not all rich men are the same and neither are the women who are looking for them!
If we endeavour to breakdown and analyse the attributes of women who can usually attract rich men, we can say that there are two distinct parts to the equation: the women's physical appearance and their mental capabilities.
On the physical side, the type of women who attract rich men may have some of the following characteristics:
Relatively tall and with a slim, well-proportioned figure (although, of course, there are many rich men who refer women who have a fuller figure - hence the variety of dating sites dedicated to Big Mommas or Plus-size ladies)
In Asia it's often the preference of rich men to seek a woman with pale, almost white skin, someone who hides from the sun and covers herself with sun block lotion whenever she is outside; conversely, many rich western men prefer a woman to have a slightly darker hue to her skin tone - and you can see how many western women love to sunbathe to achieve some colour to their skin
Many rich men prefer long-haired younger women, presumably as they believe in the maxim about younger women keeping older men young at heart but, again, it's hard to be too general. With so many rich men around, it's more than likely that there are equally as many who like women with short hair of with a hair colour outside of the usual blonde or brunette; after all, there seriously attractive women with naturally coloured apricot or auburn or even red hair
Long legs are another attribute which many rich men like a woman to have, as they will look particularly attractive in short mini-skirts or denim shorts or other outfit which can accentuate their lengthy limbs
On the mental side we also have some key attributes rich men look for in women but, again, there are some contradictions in things they might look for:
On the educational side, many rich men prefer a woman with a tertiary education, someone who has at least a Bachelor's or, ideally, a Master's Degree; if the rich man is a senior director or chairman of a major company he may well want his lady to accompany him to meetings or on business trips and she will need to be able to converse with his peers, maybe even with the clients of the company; quite the opposite to the rich man who has opted for beauty over brains is the man who has picked a woman with an educational level far below his but who appears to be the ideal so-called trophy partner or wife
Again, depending on the needs of a rich man, he might wish to be with an attractive woman who is a very good cook and adept at taking care of and managing a household; conversely, the rich man might simply engage a housekeeper and/or maid to take care of such matters, leaving the girlfriend, partner or wife free to indulge herself in beauty treatments, yoga or similar exercise and, of course, with enough shopping time to keep her appearance great at all times
So, when you look at the type of women who attract rich men, it's clear that there can be no stereotype but rather a variety and blend of characteristics which may come into play; after all, the type of woman who appeals to a rich man is very personal and individual and, as is often said: beauty (or attraction) is in the eye of the beholder!